The "Archways" Mural
About "Archways" – The Trestle Mural Project:
"Archways" is "The largest single work of public art along the Hudson River."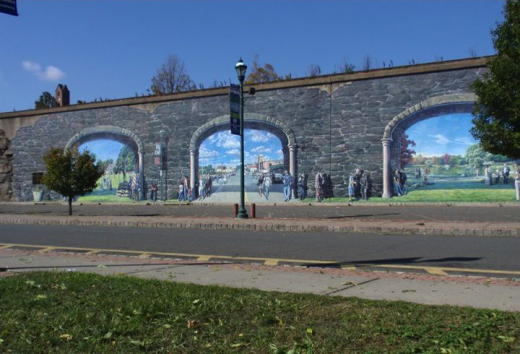 Garin Baker was selected to paint "Archways," a Trompe L'oeil, three-dimensional historical composition 22' by 220' long, depicting five of Newburgh's architectural treasures of the past, present and future: Washington's Headquarters, Broadway, Downing Park, the Dutch Reformed Church, and the Crawford House. The "Archways" mural was completed and dedicated on November 3, 2007. This mural has received local, regional and national attention, through regional television, regional and national publications, as well as thousands of visitors. Tourists from all over the world have come to Newburgh to see this mural. As a result, Orange County has been highlighted in the art world and tourist industry. Visitors engage local residents in conversation about the sites depicted in the mural and other historical arts and places throughout the county. The first three arches are maintained with ongoing fundraising, and encompass most of the trestle wall. The arches depicting the Dutch Reformed Church and the Crawford House are currently non-existent. Trestle Inc. is raising money for painting that section of the trestle wall. Your donations are greatly appreciated.
Click here for the "Archways" Mural "Gallery"

---
Locate "Archways" – The Trestle Mural Project:
The "Archways" Mural is in Newburgh, NY on Front Street between 2nd and 4th.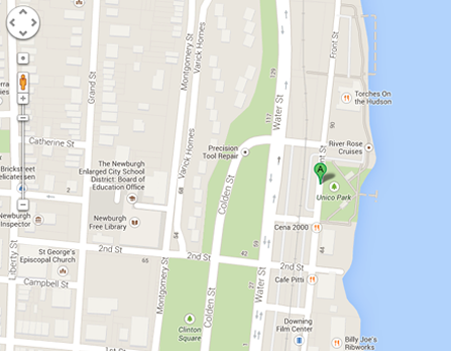 The "Archways" trestle mural overlooks the Newburgh Waterfront as it faces the Hudson River a few hundred feet from its Boardwalk and Landing. In between the "Archways" mural and the Hudson River, is a large monument of Christopher Columbus, sitting on a grassy knoll inside a black, wrought iron gated area embellished with flowering plants. On each side of Front Street, sidewalks escort visitors from "Archways" to waterfront restaurants frequented by many people from the tri-state area and beyond, as well as local residents. "Archways" has ample parking space. After turning on Fourth Street, take a right on Front Street and follow the sidewalk to the first parking lot entrance which will take you right to the mural. Park your car in the "Archways" parking lot and turn to face its magnificence. As you note the people in each of the arches, add your friends, family… and don't forget yourself…click away and create new pieces of photographic imagery! Send your photographs taken of "Archways" to Trestle Inc. to upload into our virtual Mural Gallery.