Trestle's 2017 Art Calendar
Trestle's 2017 ART CALENDAR
Trestle's 2017 Plein Air ART Calendar is now AVAILABLE!
ORDER YOURS TODAY and YOU CAN HAVE THEM IN TIME FOR HOLIDAY GIFT GIVING!
There are 12 beautiful images, most of the Newburgh Waterfront area and the Hudson River, were selected from the perspectives of 36 different Plein Air artists, who brought their easels, their art supplies and their passion for painting in the fresh air, outdoors, and captured a beautiful moment of nature! Each Plein Air artist, with their own style, brought to their canvas and our lens a unique piece of art. These paintings are also available for sale, if they haven't sold already, and were made available for our calendar.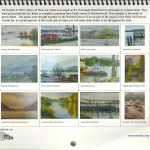 All proceeds from the calendar will be used to refurbish our "Archways" mural at the Newburgh Waterfront over the next few years.
This limited edition 2017 Plein Air ART Calendar can be yours for a $20.00 donation. Send your $20.00 check to P.O. Box 1403, Newburgh, NY or use the PayPal Donate button to order your calendar today, in time for the holidays.